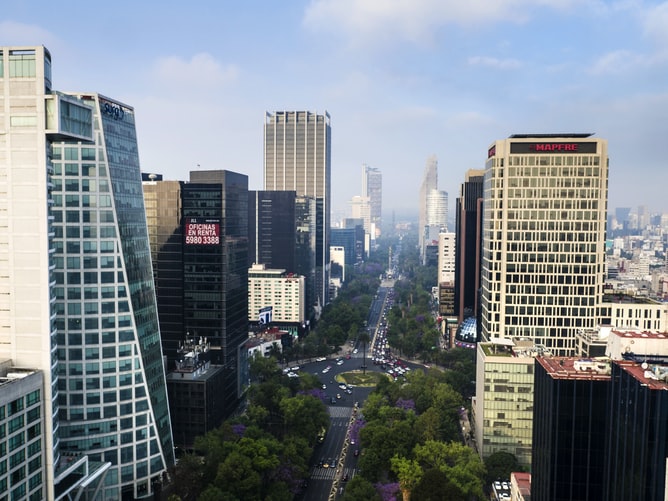 If you are coming to stay in Mexico City then it is worth you checking out the options which you have regarding neighborhoods, so that you can be in the perfect place to have the best time. You have to remember that this is an enormous city, so getting the ideal spot is critical.
Alongside Mexico City guide Rose Burillo, we want to bring you some of the most popular neighborhoods to stay in, where you will find everything that you need for your time in the capital.
Condesa
One of the trendiest and upscale neighborhoods in the city is Condesa, this is where a huge number of foreigners go when they come to the city. There is a very cool and trendy vibe here in this neighborhood, with tree lined streets and beautiful little parks throughout. Here you'll find yoga classes, tasty tea shops, cool cafes to work in and plenty of quaint little stores and businesses. This area offers a quiet break from the madness of the rest of the city.
Roma Sur/Norte
Roma Sur and Roma Norte are good places to stay, quiet and very residential, and close to the action. Roma Norte has a lot more going on, especially across Alvaro Obregon, the main street in this zone. Roma Sur is a little cheaper than Roma Norte and whilst there is less there, it still has some great markets and it is very close to the Condesa region. There is no shortage of bars and restaurants in either of these areas. Both Roma Sur and Norte are well served with the metro and the metrobus, making getting around very easy.
Zocalo
Whilst many prefer to consider the areas of Condesa and the Romas as the heart of the city, the center is actually in Zocalo, or at least the historic center is. This is a rough and ready place to stay which will give you an experience of what Mexico City is like in a more traditional sense. The historic center offers an enormous array of experiences and places to enjoy, here you can dig into the history of the city through the museums and ruins, and you can get authentic experiences from mariachis in Plaza Garibaldi to the cantina style bars which you will find here. Zocalo is a very cool neighborhood to stay in.
Polanco
Polanco is the swankier side of town and whilst it doesn't offer huge amounts in terms of tourist activities, it is a very beautiful place to stay. Polanco is one of the safest zones in the city and because of the wealth that is here, there is the infrastructure to match, with high end stores, restaurants and bars to choose from, not to mention the quality of the streets themselves.
These are the main areas which any tourist coming to the city should look to consider, any further questions, please do not hesitate to get in touch.