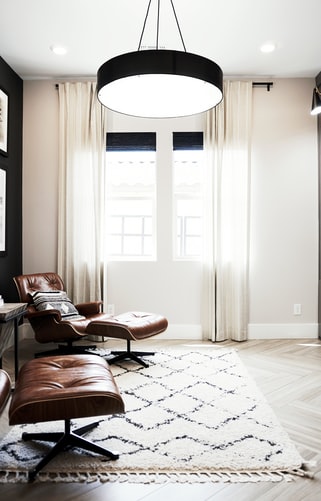 Take the world's leading rug makers. Team them with renowned fashion designers and leaders in stylistic fields. Produce outstanding, stylish, and highly sought-after rugs.
Sounds like a simplistic, straight-forward business plan.
In reality, this, now in-demand combination, has led to the creation of an entirely new division of rugs. A division which includes big names like Calvin Klein and Kathy Ireland. A division we cannot get enough of. The modern designer rug division.
The Appeal Of Modern Designer Rugs
Rugs have appealed to us throughout the ages and have held value in our eyes. The most expensive rugs in the world tend to be antique (from the 16th and 17th Centuries) yet are still in great shape and have sold for multitudes of millions.
The fact they have survived so long and are still valued so much indicates that historic appeal.
Traditionally, high-end rugs were associated with palaces, places of importance and wealth. They were the designer rug of their day. The most sought after of pieces.
Originally, modern rugs were more of a practical affair. Usefulness as opposed to appeal being the primary consideration. You could still find great rugs but there was nothing that had the enticing allure of a work of art or sought-after dress.
Until the big-name designers stepped in that is. By taking an existing idea or product and turning it into another facet of their impressive design portfolios the rug was imbued with the associations and skills that the designers brought with them. Those of quality, craftmanship, elegance and style.
You can notice this yourself by choosing between the following questions. Do you want the Casio watch and rug made by a street vendor? Or a Rolex and Calvin Klein rug? Seems a simple enough choice.
Now, the designer rugs of this day are accessible to the majority of us. And the combination of design and availability is something we love and can't get enough of.
The Big Names In Designer Rugs
Kathy Ireland
Kathy Ireland is an American supermodel who was popular in the 80s and 90s. As her business interests increased she created her own brand Kathy Ireland Worldwide.
She began her brand with a single pair of socks before moving on to rugs with another household name in the industry, Nourison. With them, who she describes as 'a team who have earned great respect', she released a great range of beautiful, affordable luxury rugs.
Calvin Klein
Like Ireland, Klein was already a big name before he got into rugs. This famous American fashion designer founded Calvin Klein Inc in 1968. After the success of his clothing range he broke out into a number of other areas like, perfume, watches, and, of course, rugs.
Also, like Ireland, his collection comes from Nourison. According to them his rugs 'present a fresh, clean, and understated style that is authentically Calvin Klein'.
Klein's designs feature 'simple transitional patterns' with 'unexpected colour combinations'. He also considers 'surface texture' and uses materials like 'wool, bamboo, and other natural fibres' to make 'wonderfully modern rugs that make a statement – strong or subtle'.
Klein designs will always be considered timeless and they accurately reflect the typical high standards and craftmanship of the man himself.
More Designer Rugs Please!
The introduction of recognised designers into the world of rugs has been a welcome one for businesses and customers alike. We get access to impressive world-class rugs and the rug makers get to sell them.
Moving forward it seems only a matter of time before other celebrity designers get involved in rug design and creation. It gives them another outlet for their impressive and wanted creativity which in turn gives us another sought after item to drool over. Sounds like a win-win all round.