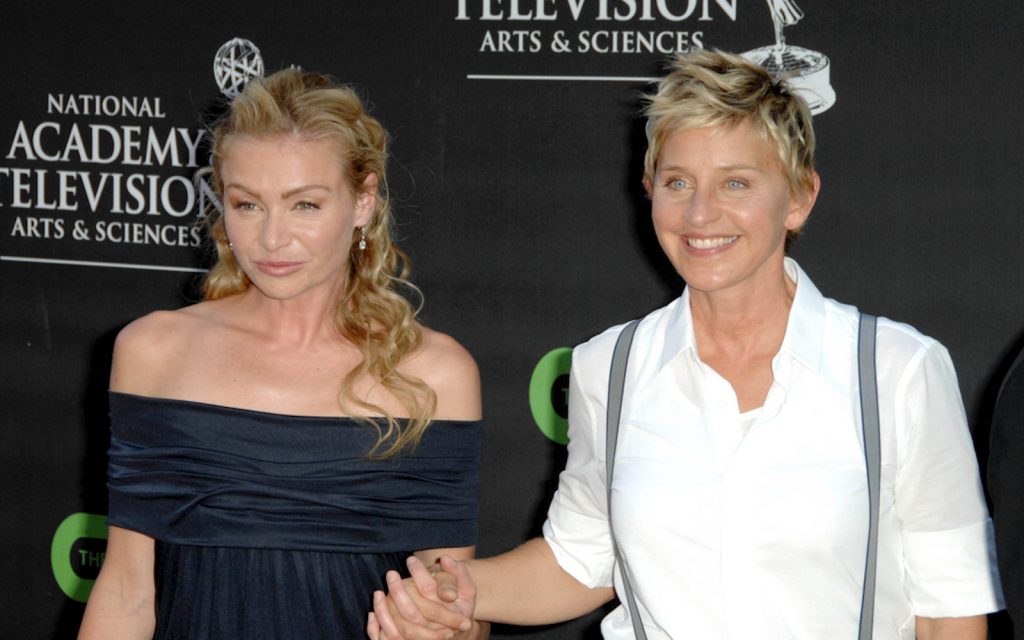 Ellen DeGeneres and Portia de Rossi are one Hollywood couple with whom we'd love to hang. Apart from serving up hilarious cultural commentary on a daily basis, the Emmy Award-winning Ellen host had us in stitches during the 2014 Oscars. (And we were not alone—this past year's Academy Awards was the highest rated telecast of the ceremony since 2000.) De Rossi, meanwhile, has starred in two of our favorite cult comedy series of all-time: Ally McBeal and Arrested Development, for which she earned a Screen Actors Guild Award and a Satellite Award, respectively. Just imagine what lunch with those two would be like.
We're not the only ones who think Ellen and Portia DeGeneres are the best thing to hit the entertainment industry since sliced (vegan) bread. On Thursday night, after long-time Late Show host David Letterman announced his plan to retire in 2015, conversation immediately turned to the question of who will replace him. Among the top contenders were Jon Stewart, Stephen Colbert and none other than our favorite selfie-snapping jokester.
In the words of Merrill Barr, a television industry expert: "CBS has made a real effort in recent years to diversify their slate. Considering that, what could be more of a statement about the network's future plans than to put American's daytime talk show darling in the hot seat of Late Show?…Of every name being rumored, Ellen Degeneres seems like the dark horse front runner that might just have the best chance of taking over the chair." From your mouth to God's ears, Merrill.
While our dream of an Ellen-hosted Late Night may be well within reach, our fantasy of hosting the dynamic DeGeneres-De Rossi duo at our next dinner party is a little harder to fathom. In all likelihood, the closest we'll ever get to breaking bread with the couple is this recipe for their favorite vegan shepherd's pie. The couple's personal chef, Roberto Martin, says he has "a blast" cooking for the two vegans, who "love the flavors of this shepard's pie." It'll hit the spot on those rainy April days to come. Give it a go this meatless Monday!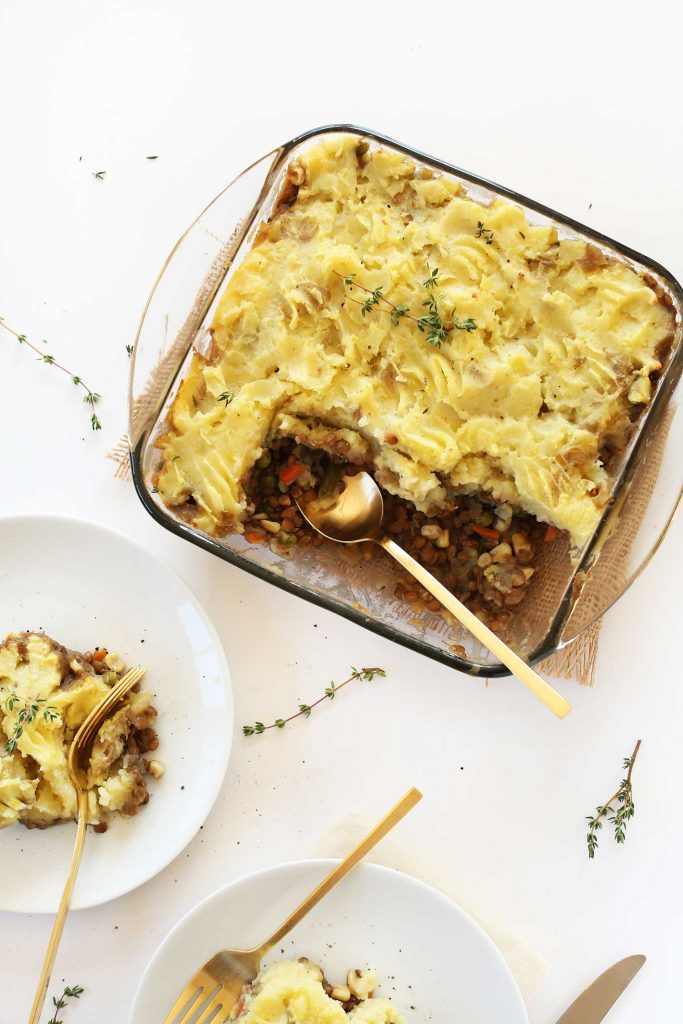 Portia De Rossi and Ellen DeGeneres' Vegan Shepherd's Pie
Ingredients
1 cup dried French green lentils, rinsed, or 1 (12-oz.) package of Smart Ground Original or Boca Meatless Ground Crumbles
2 pounds russet potatoes
4 tablespoons (1/2 stick; 1/4 cup) vegan butter, melted
1/2 cup warm almond or soy milk
1 tablespoon chopped fresh chives (optional)
Kosher salt
Freshly ground black pepper
2 tablespoons high-heat oil such as safflower or grape-seed
1 white or brown onion, diced
3 cloves garlic, minced
2 celery stalks, minced
1 large carrot, cut into small dice
1 teaspoon fresh or dried thyme
3 tablespoons all-purpose flour
1 1/2 cups broth made from Better Than Bouillon No Beef Base or Vegetable Base
1/2 cup frozen organic peas
Directions
1. Preheat the oven to 425 degrees Fahrenheit.
2. Place the lentils in a medium pot and cover with 1 inch cold water.
3. Cover the pot and bring the water to a boil. Reduce the heat to medium-low and simmer for 20 minutes. The lentils will most likely be undercooked, but that is okay as they will be further cooked later. Drain the lentils and reserve.
4. While the lentils are cooking, peel and rinse the potatoes and place them in a large pot. Fill the pot with water to at least 3 inches above the potatoes. Bring to a boil, reduce the heat, and simmer until potatoes are soft.
5. Drain the potatoes and place them in an ovenproof baking dish or pan. Bake for 5 minutes to remove excess moisture, and leave the oven on.
6. Working quickly, mash potatoes with a potato masher. Add the melted butter, warm milk and chopped chives (if using), and stir until well incorporated. Season to taste with salt and freshly ground black pepper.
7. Heat a sauté pan over medium heat, add the oil and wait until it shimmers.
8. Add the onions and sauté for about 5 minutes or until the onions begin to show color. Add the garlic, celery, carrot and thyme and cook for 3 minutes more.
9. Sprinkle flour over vegetables. Stir.
10. Carefully pour the broth into the pan and stir until well incorporated.
11. Stir in the lentils and simmer the stew for about 5 minutes.
12. Add the peas to the lentil mixture and season to taste with salt and pepper. Spread the mixture evenly into an 11×7-in. ovenproof baking dish.
13. Top with potatoes, starting around the edges to create a seal to prevent the mixture from bubbling up. Smooth top with a rubber spatula. Bake the pie for 25 minutes or until potatoes begin to brown. Allow pie to cool at least 15 minutes before serving.