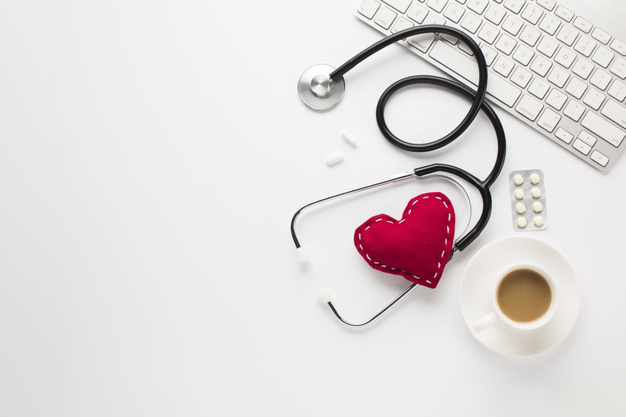 Image Source – https://www.freepik.com/free-photo/stethoscope-with-red-heart-near-medicines-cup-coffee-keyboard-white-desk_5223587.htm
Globally, cardiovascular diseases claim 17.9 million lives. These mainly include cerebrovascular, coronary, and rheumatic impairments, which affect the heart as well as blood vessels, according to an article on the World Health Organization (WHO). As of 2016, 121.5 million adults are living with some form of heart disease in America alone. Given these alarming figures, the field of cardiac care is undergoing rapid evolutions. In fact, national programs are being solely dedicated to helping patients receive faster, better and safer care.
The first step would be to ensure updated equipment in order to improve the quality of care provided. Pick the best medical supply company that promises to provide affordable yet finest quality products to health-oriented establishments, according to experts at Surgical Supplies US. This goes a long way to make the best use of resources with the utmost reliability. Besides partnering with the top medical supply store for good medical health supplies, here's how to improve the cardiology services of your unit.
Divide the Team by Specialty
Interventional, non-invasive, invasive, vascular, cardiothoracic, and thoracic are the multiple fields of heart-related activities that fix different kinds of focused heart complications, according to an article on McLeod Health. Organizing the team accordingly can ensure excellent state-of-the-art clinical care. This is because each group can be headed by leaders of the domain. They can discuss functions of advanced and durable medical equipment, latest innovations, and upgrades in the particular branch. They can also create strategic plans to execute high-end procedures.
Invest in Latest Technologies
A few innovative ones in the world of cardiovascular health are Google glass, leadless pacemaker, bioresorbable stents, protein patch, and valve-in-valve procedure, according to an article on Harvard Health Publishing. Each serves different purposes, yet the main focus is to make procedures less invasive and reduce the risks of contaminating the sterile environment. In fact, the protein patch can facilitate the growth of normal tissues. This can stop the heart from entering a state of cardiac arrest and restore natural functions. Get in touch with your medical supply vendors to learn what is new and consider getting it from the medical supply store.
Organize Workshops for Heart Patients
Besides surgeries, check-ups, and treatments, try hosting informative workshops for cardiac patients. Get dieticians on board to recommend heart-friendly meals and talk about the ones to eliminate. They can also discuss portions according to BMI and how often to consume. Next, make sure to have a session on ways to control blood pressure since it could be a significant reason for heart attack. Educate your attendees on physical exercises, healthy weight, stress management, the impact of smoking on the heart, and general diet rules. Lastly, encourage them to buy medical equipment online from trusted sources to ensure maximum heart care at home.
It is extremely crucial for heart hospitals to invest in only the best surgical supplies available online. If you are buying medical supplies on discount, choose a store that will not compromise on the quality. Lastly, ensure services are being extended in an integrated way to reduce care inequalities in various income groups.