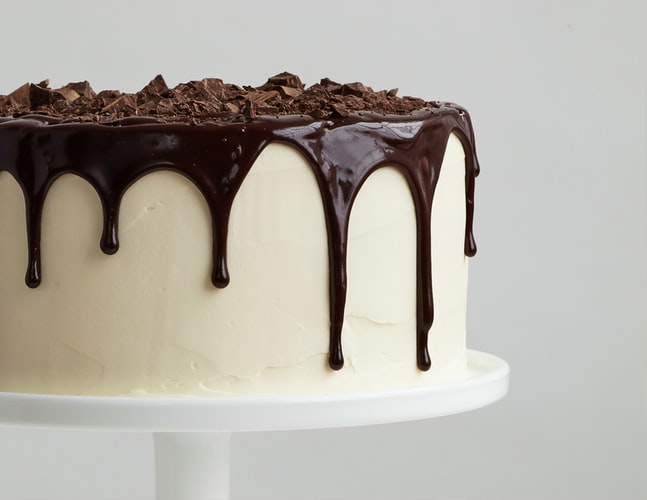 Who doesn't like surprises? And especially if that surprise is on a special day like your first wedding anniversary. Surprising those whom we love the most feels great and is surely a satisfying act. So, to help you surprise your beloved on your first wedding anniversary, here is a list of cakes from which you can choose one (or more) to amaze your soulmate. Celebrate the union of you two on your anniversary with an astonishing- first wedding anniversary cake from the list below-
Wedding Cake Miniature- The wedding day is always one of the biggest occasions in once life. And to recreate memories from that day on your wedding anniversary could be a fun idea. So, for your first-anniversary celebration, go for the mini version of your actual wedding cake. Sounds like an idea? Then go ahead with this cake and make your anniversary celebration as special as your wedding day.
Macaron n Confetti Cake- As you have completed your first year of togetherness, celebrate it with a cake that is cute and tastes yummy. Everyone loves macaron and colourful sprinkles, so how about a cake that has these elements as decor? We bet this cake would not just taste yummy but will also help your partner to fall for you all over again because hello, it has macarons and confetti.
Champagne Bottle Cake- Opening champagne bottles on days like your wedding is a tradition that makes the celebration more happening. Right? Well then, how about a cake that is in that same bottle design? Sounds cool, right. So, order a champagne bottle design cake and make it personalised with your and your partner's name on the champagne bottle.
Wedding Portrait Cake- It's been a year, and now you might have got your wedding album ready. And you might have a photograph that you and your partner adore. Yes? Then how about turning that photograph into a cake? Great idea, right! So, pick the best photo from your wedding day and relive that moment on a cake. You can get that cake printed on a sugar-sheet, or you can ask the baker to imitate that photo in the form of figurines as cake toppers.
Marble Cake with Golden Foil- Your partnership with your spouse, gleams like gold! Then how about adding that gold-factor in your anniversary cake as well? Order a marble designed cake with golden dripping happening from the top. And to make this cake look out of the box, go for a dark colour marble texture and see how beautiful it looks after the gold-dripping thing.
Now that you have enough ideas about what cake to pick and surprise your partner on your first anniversary with, then what are you waiting for? Order any of these cakes online, and decorate your house, prepare some yummy meals and get the party started! Surprise your partner with thoughtful gestures, and rule his/her heart all over again.
But wait, hold on! Is there something else missing? What about the sweet messages and wishes that will leave them in tears of joy? Well, if you are not a person who is great with putting their feelings into words, then we have put together some messages that might help you out.
This past year, I've been waking up every day to the sight of you looking at me, smiling. No matter how much beautiful artwork I see, that image will never be surpassed. Happy anniversary, I love you!
I really expected our first anniversary to feel different, like it was something special, since, by definition, it is a day where we are reminded of the reasons we love each other. Yet, it seems just like another day when I fall deeply in love with you, again and again, every time I look into your eyes. Happy first anniversary, I love you!
On paper, 365 days seem like a lot, yet, you made those days so perfect; I want 365 more! I love you like nothing else in this world. Happy first anniversary!
This past year has been the most extraordinary, fun, and most importantly, crazy year of my life. And for that, I have you to thank my lovely partner. Happy anniversary!
Before we got married, I thought that the spark we had at the start of our relationship would eventually fade. Yet, with you as my partner, it evolved into the craziest fire my heart has ever seen. Happy first anniversary!
So, that's all and happy anniversary from our side as well.