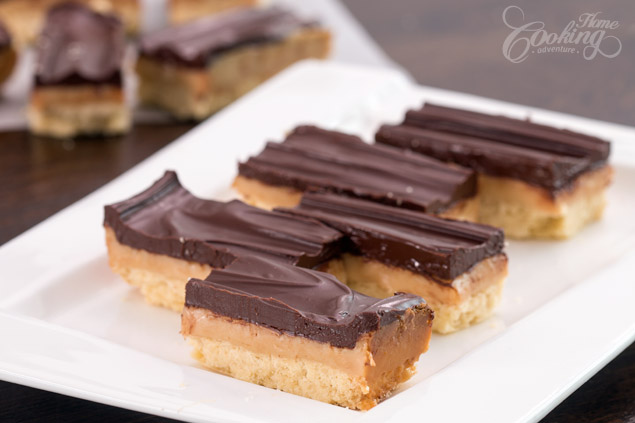 The Twix was my go-to candy bar, my movie companion, my lunchtime fascination, my trade-anything-for-it Halloween treat. When the mini-Twix came out, long after I became an adult who no longer had the metabolism to eat them daily, I thought them heaven-sent, even though their arrival meant I would simply hide in my laundry room and mow down my kids' trick-or-treat bag's entire supply.
In the annals of classic junk food overreach, there was, for a short time in the late '80s or early '90s, a moment of Cookies-n-Creme Twix bars, with a chocolate cookie base and an Oreo-like filling in place of the caramel, a devastating development. Thank goodness, the classic seems to have reigned.
This version is time consuming, but worth it. Just make sure your pan is very well greased when you make your shortbread, or it will be hard to slip it out. Here's the good news: If the shortbread breaks, you can still set it easily into the caramel. But do NOT stack these once cooled, and especially don't stack them on top of your Goo Goo clusters, or you will wake up in the morning with a glob of chocolate that you have to pull apart, perhaps in a dark room alone, where no one can see you eating approximately half a pound of chocolate for lunch.
Twix Bars
Makes 12 candy bars
Ingredients
Unsalted butter, softened, for the pan
1/2 stick salted butter, softened
1/4 cup sugar
3/4 cups all-purpose flour
1/4 teaspoon salt
1 3/4 cup (10 1/2 ounces) semisweet chocolate morsels
One 14-ounce bag caramels (about 2 cups, or 50 caramels)
2 tablespoons half-and-half