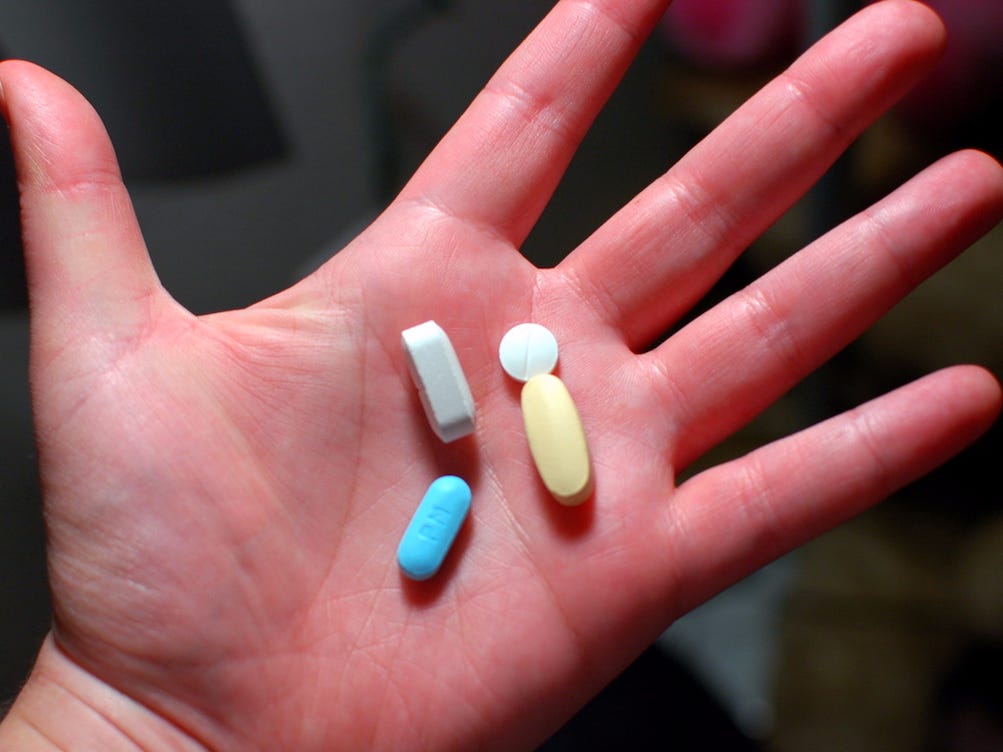 Spring has sprung, which means summer—that sun-filled time of year when we bare our skin, show off our pedicures and think of inventive new updos for our hair—is just around the corner. Gone are the hats, gloves and trousers of March, and we're starting to feel that we may not be ready for the exposure. Given the circumstances, it's tempting to cut out the culinary middleman and reach for those hair, skin and nails vitamins.
However, if you're popping pills to support the health of your integumentary system, you may be doing it wrong. Let's talk prenatal vitamins, for starters. You've probably heard the rumors that taking these supplements, even when you're not pregnant or trying to conceive, can do wonders for your mane, make your skin glow and strengthen your nails. Perhaps, thinking back to how great your pregnancy hair looked, you've invested in a bottle. However, before you buy into this beauty myth, beware what the experts have to say on the matter.
"You may be tempted to take prenatal vitamins because of unproven claims that they promote thicker hair and stronger nails," said Mayo Clinic nutritionist Katherine Zeratsky. "While prenatal vitamins are generally safe for healthy adults, they may not be suitable if you're not pregnant and not planning to become pregnant." If you have a vitamin B-12 deficiency, however, taking prenatal vitamins could result in delayed diagnosis—and treatment—of your condition due to the pills' high folate content. (Folic acid masks the signs of B-12 deficiency.)
Furthermore, according to the Mayo Clinic, "During pregnancy, the recommended intake of iron is 27 milligrams (mg) a day. Women between the ages of 19 and 50 who aren't pregnant need only 18 mg a day, and women age 51 and older and all adult men need only 8 mg a day." The average prenatal vitamin contains far more iron than the average woman needs. A surplus of iron can be toxic to the body, causing constipation, nausea, vomiting, and in extreme cases, death.
What about biotin, you ask? As you've strolled the aisles of GNC you've probably seen bottles of the stuff claiming to promote "healthy hair and strong nails." These purported benefits are based on the belief that biotin improves keratin's (the basic protein that comprises hair, skin and nails) infrastructure. However, according to board-certified dermatologist Dr. Susan Stuart, "These B complex vitamins (also known as vitamin H) are important in metabolism, helping your body to process energy and transporting carbon dioxide from your body's cells." Biotin's beauty benefits, on the other hand, have yet to be proven.
To top it off, biotin occurs naturally in many foods. Our bodies automatically recycle the biotin we've already processed. Actual biotin deficiency is very, very rare. Biotin overdose (which is also rather uncommon) can result in "slower release of insulin, skin rashes, lower vitamin C and B6 levels and high blood sugar levels," according to Stuart. Long story short, the biotin you intake naturally (if you follow a healthy diet) is more than sufficient, so don't waste your hard-earned cash on urban beauty legends.
The smartest way to nourish your hair, skin and nails is to follow a diet full of vitamins E, A, C and B, minerals like zinc and iron, and more.