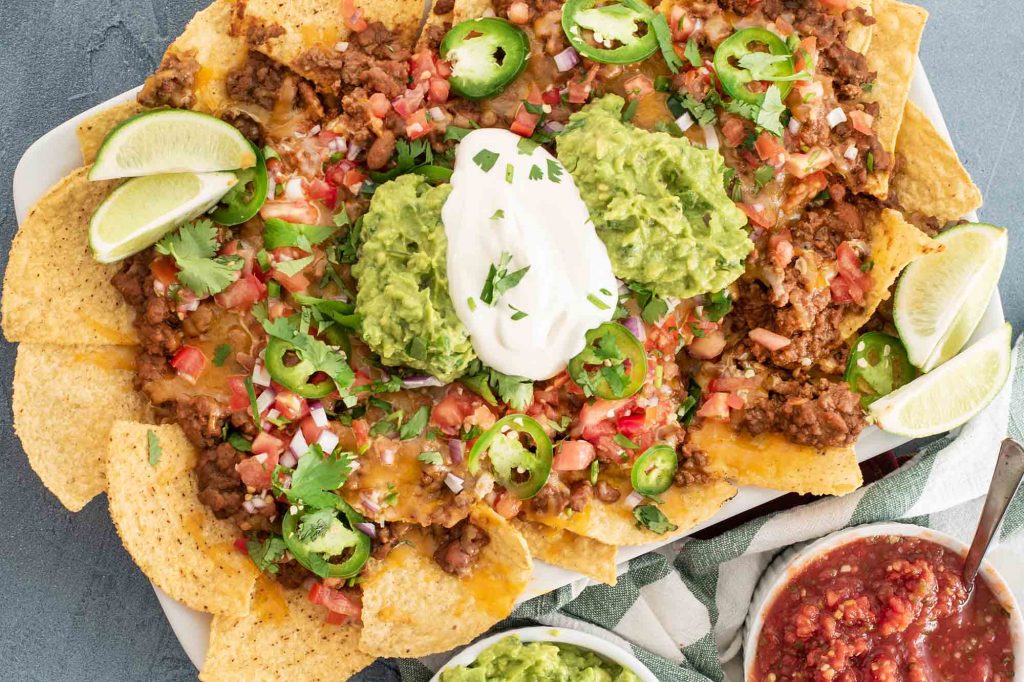 When it comes to impressing dinner guests, presentation is just as important as the food itself—if not more. And when it comes to feeding your kids? Equally key.
Enter Patrick Bertoletti and his newly opened, Chicago-area Taco in a Bag, where customers are served gourmet nachos in a fun, mylar sack that are based on the classic midwestern Walking Taco. "I grew up eating the Walking Taco—it might be traced from Iowa, but in the South, it's called Frito Pie," says Bertoletti, who first came up with the idea when he parked his original food truck, Glutton Force Five, at street festivals. "The original is Fritos with ground beef made with generic taco seasoning, and you add sour cream and cheese—that's a basic one. I had that, and I was trying to think of names for the truck, and I decided why don't we do a gourmet adult version?"
Bertoletti's rendition is totally gourmet. He makes everything from scratch, on his own, including the chips, and has variations like shredded braised chicken, braised pork, even pizza in a bag. "I don't let anyone else cook," he says. "I make anywhere from 60 to 90 pounds of tortilla chips every week."
And, says Bertoletti, "The bag puts it over the top. You see someone walk around with a silver bag, and it's like, 'Are you eating a Capri Sun?'"
So far, what's the favorite among his kiddie customers? The cheeseburger nachos in a bag. Try out a simplified version of his recipe at home or for a summer festive birthday party and watch the kids delight in every last bite! (Added bonus: No dishes to worry about after.)
Cheeseburger nachos in a bag (adapted)
Makes 5 servings.
1 lb ground beef (use 90/10 lean/fat ground beef)
1 can beer
5 tbs unsalted butter
1/3 cup flour
4 cups milk
1 cup cheddar cheese, shredded
1/4 cup parmesan, grated
1/2 teaspoon lemon juice
1 teaspoon sriracha sauce
1/2 head romaine lettuce, sliced
1/2 cup of sliced pickles
Salt to taste
1/4 cup of ketchup
1 cup mayonnaise
1/4 tablespoon barbecue sauce
1 cup of potato chips, crushed
1/4 cup of poppy seeds
5 mini bags of Fritos
Saute ground beef with salt and beer. Cook through and set aside. For cheese sauce: warm milk in a sauce pan. In separate pot, melt butter. Quickly stir in flour. Keep stirring for several minutes, until the mixture has turned golden. Add milk and use whisk to stir until the sauce is thick and creamy. Add cheeses, lemon juice, and sriracha. Whisk until thoroughly blended. Set aside. For special sauce: Mix ketchup, mayonnaise and barbecue sauce until well blended.
To compose, open Frito bags and equally divide ground beef over the chips for second layers, in each bag. Then equally divide cheese sauce for third layers. Top each with lettuce, special sauce and sprinkle with pickles, potato chips and poppy seeds. Serve with a fork.