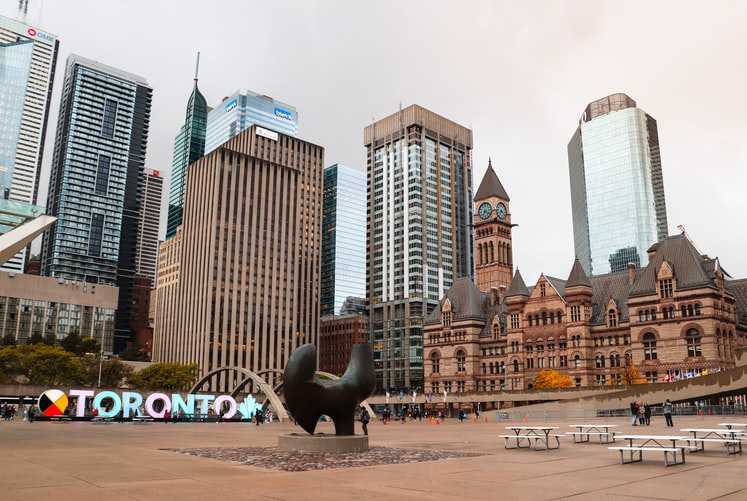 Dubbed the New York of Canada, Toronto has a lot to offer their residents. From amazing sporting events, epic nature and great food. It's no wonder Toronto is among the best cities in the world to live.
1. Friendly Faces All Around
Everyone knows Canadians are among the most sincere and friendly people you'll come across. Toronto is no different and you can go from strangers to best friends in about 5 minutes.
Residents of Toronto will want to greet you and welcome you to their city and even offer to show you around. If you are arriving in the city solo it won't take long to meet new genuine friends.
2. World-class Restaurants & Wine
With an abundance of 5 star restaurants you'll have no problem finding a delicious meal.
No fine dining experience is complete without a great bottle of wine to compliment your meal. Although unlikely but, if you couldn't find the wine you're looking for then check out this website for all your wine needs.
If fine dining is not your thing no problem, Toronto is quite famous for what's called street meat. Yes just like New York you can find yourself a delicious hot dog and sausage at some popular street corners.
No matter the area of Toronto you eventually settle in you are sure to find delicious healthy food nearby. Don't be afraid to mix it up and go with some of the international dishes to mix it up from time to time.
3. Neighborhoods
Speaking of neighborhoods, there are actually over 200 neighborhoods in the greater Toronto region. The city is known for its variety and multiculturalism and the locals embrace this.
If lakefront living is your thing be sure to check out Mississauga real estate. It's a large city neighboring Toronto that features a working lighthouse, marina, walking trails, beautiful city parks and much more.
Each area of Toronto shares a unique character, style and architecture. You really are spoilt for choice when it comes to choosing a neighborhood to settle down in.
4. Natural Location
Canada is famous for its incredible natural nature throughout. While not as immediately evident as Vancouver, Toronto is indeed wrapped in the natural nature you'd expect from Canada.
A day out on the lake won't be a problem as Toronto is sitting on the edge of Lake Ontario. Situated on a beautiful lake shore with beaches and Scarborough bluffs. Just a short trip away are Lake Erie and Lake Huron and Lake Simcoe.
A city of the great lakes region outdoor adventure is a popular pastime in Toronto. If you're the outdoors adventure type you'll feel right at home.
Finally its location gives you easy access across the border into the United States and North America. New York is a stone's throw away so if you feel like splurging on a new pair of drop earrings, take a trip to the big apple.
5. Job Opportunities
Cost of living in Toronto is steadily rising due to its popularity and rising economy but the city is the financial capital of Canada.
Job opportunities grow as the economy does, and Toronto employs over 220,000 people in the financial sector.
If you're seeking a career in business, then this is the city!
6. Sports All Year Round
Toronto is a city of sports and Champions. Health and fitness is a priority in the city and you'll easily find a gym of your choice nearby.
The different seasons offer different sporting experiences. Ranging from basketball to ice hockey, whatever it is there's a sport to suit everyone.
Not just sports but outdoor activities from rock climbing to kayaking the city has it all. With the abundance of nature at your doorstep the choice is yours.