Travel to the historic university city with kids
Less than two hours from Grand Central by train, the historic city of New Haven is known to the world as the home of Yale University. But to locals, it's the home of under-the-radar world-class museums, stunning gothic architecture, and what must be the world's highest concentration of great pizza. The grand opening of the long-awaited addition to the Yale University Art Gallery in December, hailed by the New York Times as "a miracle," is just the latest excuse to make this worthwhile day trip. See our itinerary to exploring this medium-sized city with the whole family below. —Artie Niederhoffer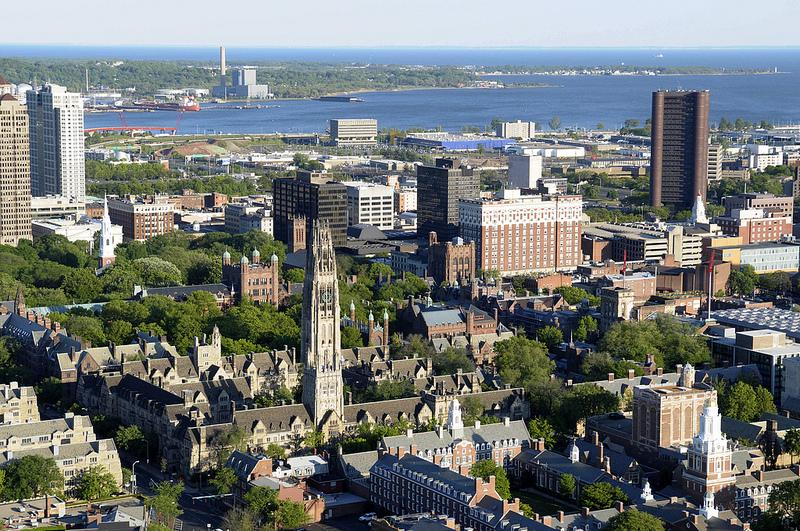 ---
9 AM
Atticus Bookstore Café
Start the day with croissant sandwiches at this bookshop-bakery where moms will be grateful for an unlimited supply of stories to distract fussy kids during the meal.
10 AM
Yale University Art Gallery
Having recently expanded into the beautiful neoclassical building next door, the long awaited addition transformed a beloved gallery into a true world-class museum. If this comprehensive collection spanning from Renaissance to contemporary somehow leaves you wanting, head across the street to the renowned British Art Museum and view a romantic collection of portraits by the English masters in another architectural gem.
1 PM
Louis Lunch/ Claire's Corner Copia
Depending on the dietary needs of your kids, head either to Louis Lunch, a century-old restaurant that claims to have created the world's first hamburger (if a remarkably juicy beef patty on toast instead of a bun indeed constitutes "burger"), or to Claire's Corner Copia, a classic vegetarian spot where you'll find professors and students chatting over vegan burritos and quinoa burgers.
2 PM
Beinecke Rare Book and Manuscript Library
This incredible instution is worth the trip to the eastern edge of Yale's campus to view exhibitions, but kids will have to use their indoor voices in the sacred hush of this space. If that sounds unrealistic, families need not enter to experience the library's real draw: the exterior of this building is a wonder to behold—a perfect cube built of translucent marble slabs that casts a slight  glow in the sunlight.
3 PM
The Peabody Museum
From there, you'll be near enough to walk to New Haven's charmingly old-fashioned (but not out-dated) natural history museum. What kid doesn't love a good brontosaurus?
5 PM
Pepe's/Sally's
Anyone who's been to New Haven just once has an opinion of which (of many!) famous pizza slices is the world's best. Though many modern contenders have emerged over time, these spots in New Haven's little Italy are the oldest, and according to many, the best. You can leave room to try both Pepe's thin crust and Sally's hariter pie, but you'll have to pick favorites quickly, because there's no crossing sides on this ancient rivalry between neighbors.
8 PM
Yale Repertory Theater
Culture your kids! Tommy Lee Jones was once an actor in Yale's prestigious drama program, and their theater still attracts professional level performances and often premiers shows on their way two Broadway.
10 PM
Ashley's Icecream
Homemade ice-cream with creative toppings, voted Connecticut's best cone year after year.
12 AM
The Study Hotel
This centrally located upscale boutique hotel has an art gallery in the lobby and an award- winning locovore restaurant, Heirloom, that's considered one of New England's best. Remember to leave time for brunch!
9 AM
East Rock Park
On your way out of town, drive or hike to the top of East Rock Mountain where you'll find a monument and fantastic views of the Connecticut landscape and the entire city. At the top, let your kids point out all the places they've visited over a fun-filled trip.