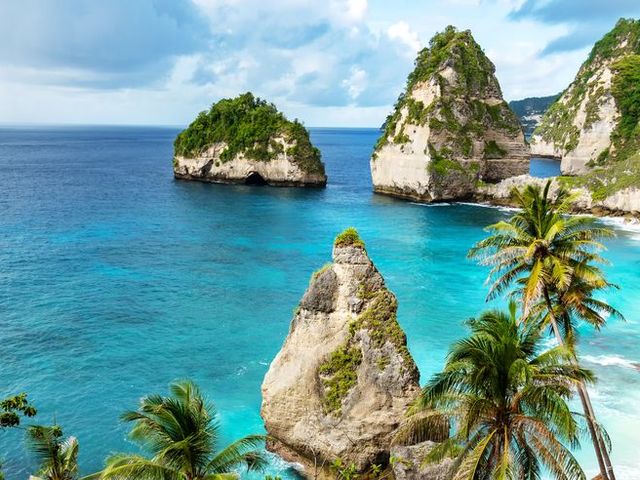 Have you been feeling good about your budget lately? We're guessing yes. It may be because the sun is shining a little more, and those extra doses of vitamin D are lifting your spirits. Or it could be due to the fact that it's the midyear mark—and you've actually managed to stick to your financial resolutions. Regardless of the reason, kudos to you!
Of course, now that the weather outside is a little less frightful, summer temptations will soon come calling—outdoor concerts, weekend trips to the beach, al fresco dining. Translation: You probably can't ignore the itch to get out there and do things (read: spend money) now that you no longer have the Polar Vortex as an excuse to stay put at home.
It's a common conundrum: Limitless summer diversions, not-so-limitless dollars to spend. We hope you already have a budget in place. And if you've been using the 50/20/30 principle of budgeting—one easy rule of thumb for seeing where your money goes—you may already allot 50% of your budget to essential costs, like your mortgage or rent; 20% to such financial goals as retirement and debt repayment; and 30% toward "fun" lifestyle expenses, like eating out and grabbing drinks with friends.
Given that it's often those very lifestyle costs that have the potential to bust budgets—especially during peak travel and entertaining season—we asked three lifestyle experts, plus our own LearnVest CFP® David Blaylock, to share their summer "fun" budgets to give us an inside look at their own warm-weather spending. Hopefully, you'll be able to glean some tips on where to consider shaving costs—and feel better knowing that even the pros allow themselves a little room to splurge.
The Travel Guru
Eileen Gunn, founder of Families Go!
Gunn's website is all about helping parents plan vacations, but she notes that the actual getaway isn't the only big summer expense you need to plan for—there's also the cost of keeping the kiddos occupied once school lets out. Here's how the travel expert saves on vacations and staycations.
Vacation "We don't necessarily spend more during the summer on trips. Once you have kids, they have winter and spring breaks, so you tend to travel more [throughout the year]. Over the summer, most people are trying to find a vacation that is longer—a full week, 10 days, a two-week vacation—but keep money in mind because you have all these other breaks.
To save money on summer travel, our family tries to use miles whenever we go on vacation. Three years ago we went to Germany for three weeks. We had family and friends who we stayed with for much of the time, and we used miles for the airfare. We're actually hoping to go to Europe again this year using miles.
Summer Fun and Dining Out "We eat out less this time of year because we leave the city on the weekends and eat at my in-laws' summer home. And I know that in the last two weeks of August and the first two weeks of summer nobody is coming to my website because they are either on vacation or they just got back from vacation, so I can take some downtime.
My daughter and I will do something in the afternoon, like go to the beach, where you pay for parking—but the cost isn't too bad—or go to a museum for a small fee. We'll have lunch somewhere and play mini golf, or go to the aquarium or the city pools, which are free."
The Consummate Host
Mark Addison, entertaining, design and event-planning expert
Addison has made a name for himself producing intimate and large-scale events for such clients as the American Cancer Society and Procter & Gamble. As for his own entertaining, it takes center stage come summertime—he allocates the bulk of his lifestyle spending toward hosting friends and family. Here's how he divvies up his warm-weather budget in style.
Entertaining "You have more energy and more daylight in the summer, so I amp up entertaining—but on a smaller scale. When I host family and friends, my little tip on how to save a few dollars is to throw a potluck, which makes it easy for the host because you divide up the responsibility and cost among your friends. Plus, it's a very fun and sharing experience!
Buying cases of boxed wine that serve 40 glasses per unit will also save you money over buying individual bottles, and mini kegs (found at your local liquor store) are a great way to save over buying individual beers.""My tip on how to save a few dollars is to throw a potluck, which makes it easy for the host because you divide up the responsibility and cost among friends."
Vacation "I work in the Hamptons throughout the summer, but when the weather gets too hot in late August, I'll take some trips up to Vermont or New England during the week—any place north—and check out festivals and flea fairs. I love finding steals and deals! As a result, my gasoline expenses go up in the summer because of long-distance driving, but I split the cost with friends who tag along. For a fun group activity, I recommend taking advantage of beer distilleries and wineries, which are free to attend."
Dining Out "It's about 50/50 for me on eating out—I enjoy going to restaurants and meeting up with friends, but I also enjoy staying home or going to a friend's house. In the winter and fall, I tend to stay in and order in. But in the summer, many of these restaurants have outdoor seating, so the experience of dining al fresco comes alive."
Summer Shopping "I always stock up on one key entertaining tool. This year I'm investing in a portable icemaker, which costs about $200, so that's something I'm budgeting for. Oh, and I budget for rosé as well!"
The Multitasking Mom
Amelia Markgraf, blogger
Markgraf—a Wisconsin stay-at-home mom who blogs on The Homebook about food, D.I.Y. projects and life with her husband and baby boy—has a budget that probably mirrors that of many families. We take a peek at what summer costs look like for her brood—including tips on how to spruce up your home for guests on a dime.
Vacation "We haven't taken a real vacation in a long time for pleasure, opting to visit family instead. We have a few family members who live across the states, so we like to drive and save money—and then spend on things like museums and places to eat when we get there. But this summer we plan to take our first real family vacation to the Grand Canyon. To fit it into our budget, we began putting money aside for the trip at the beginning of the year—between $25 and $50 each paycheck."
Entertaining "Our grocery bill probably goes up in the summer, but only by a little. We definitely buy more meat to cook on the grill and alcohol for fun drinks, but we save on produce by keeping a garden. Last year we grew tomatoes, cucumbers, peppers, green beans, sugar snap peas and a few varieties of lettuce. I had a salad practically every day for lunch that came straight from the backyard.
When I have people over, I cut flowers and greenery when they're in bloom from the backyard to use for bouquets. I also love to get flowers from Trader Joe's—they always have a great, inexpensive selection. I don't usually spend more than $10. Popping a bunch of tea lights into tiny jars and scattering them around the house is another easy and cheap way to add prettiness to a party.
"We plan to take our first family vacation to the Grand Canyon. We began putting money aside for the trip at the beginning of the year—between $25 and $50 each paycheck."
And I always stock up on inexpensive dishtowels when I make a trip to IKEA—the TEKLA and ELLY are my favorites—because they make nice napkins. Cloth napkins always seem so indulgent to me, but really, you're saving money because you can use them again and again."
Summer Fun & Dining Out "Our son is 18 months old, so we're not paying for camp yet. But I do see us spending more during the summer when we go to the zoo and water park—and Milwaukee has Summerfest, one of the biggest festivals in the United States. Summer events usually run us around $30 per event, on average, if all three of us attend. And we tend to seek out free events, like the weekly jazz concerts at the park downtown, and then spend money on good food from vendors or food trucks.
We also like to go to farmers' markets once a week, and we'll buy good things to eat while we're just walking around. Since we have our own garden, I usually only buy things that we don't or can't grow in the backyard, like sweet corn and strawberries. Since those things are available locally just once a year, I'm willing to spend a bit more than I would at the grocery store because they're so much better when fresh!"
Clothing "I do spend more on clothing in the summer because I get more excited about fun items in bright colors. My husband is pretty low-maintenance when it comes to what he wears, but I like to get him a few lighter work shirts for the warmer months. And I've already gotten my son tiny sandals!
In the past I've tended to buy things I see at the mall and don't end up wearing much because they're not very nice. But this summer I've been trying to find pieces of clothing that are more expensive and will last longer. I recently purchased a dress from Sonnet James—I probably could have bought three dresses from Old Navy to equal what I paid for this one, but I plan on wearing it for years to come."
The Personal Finance Pro
David Blaylock, CFP®, LearnVest Planning Services
In some ways, you could categorize Blaylock's summer budget as 100% travel. He and his wife spend the warmer months going back and forth between their homes in Fort Worth and the Texas coast—costs that could only be covered thanks to some diligent budgeting throughout the year. Here's how one of our ownLearnVest Planners allocates—and saves for—his summer spending.
Vacation "We set aside about $4,000 a year for our travel costs—and it usually gets drained out quite a bit in the summer. We always go to the Texas coast, where my wife's family has a house, and that may take up about half of our vacation budget. It's pretty inexpensive, except for the cost of getting there, which averages about $750 over the course of the summer. But once there, we tend not to spend a lot of money.
My wife and I are also heading to the Florida Keys with family this summer. We actually do a lot of trips with family and friends, and we split the cost. A hotel in Key West would be about $300 per night, which would cost us collectively $900 per night. But the house we rented is $600 per night, with much more room and a full kitchen. We may do one nice dinner while there, but we tend to do lunches out because they are cheaper.
I had always been a resort person before, but last summer we rented a house in Mexico that came with a maid and a chef. There were four couples, and we stayed for five nights—and the total bill was $1,100 per couple for the whole week. As a group, we paid $25 per person, per day, for the chef—and that included his tip. We also used frequent flyer miles, so the trip was very cheap for us. It's all about the group vacations now!"
Entertaining "We don't do a lot of entertaining at our own house in the summer because it's landlocked. We do all our hosting at our beach house, which we visit six times per summer. I find that our expenses don't go up that much more over our regular monthly expenses—only about $650 over the course of the summer. But if they're more, we'll take it out of the travel fund."
Summer Fun "I have a very expensive deep-sea fishing habit—I spend about $450 each summer. It's not a cheap hobby, that's for sure. We also do a lot of outdoor concerts, spending about $200. That also comes out of our travel budget. But we only go to concerts where we can BYOB, saving us from buying $12 beers."