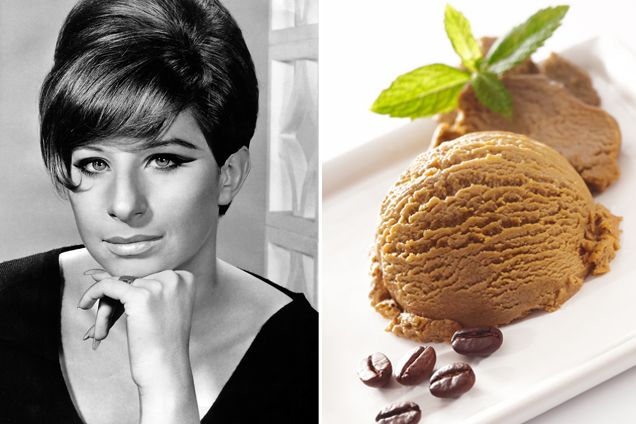 Happy birthday, Barbra Streisand! The best-selling female artist of all time turns 72 today. Coincidentally enough, that's the same number (in millions) of albums she's sold to date…in the United States alone. Also on her resumé are two Academy Awards, eight Grammys, five Emmys, a Peabody, a Tony, and more. And let's not forget that in the 1980s Streisand became the first woman to direct, produce, script and star in her own feature.
Despite her immense success, our favorite Brooklyn-born Funny Girl has always remained true to her roots. She's an outspoken supporter of the Democratic Party and many of its causes, a passion that once earned her a place on Richard Nixon's infamous "Enemies List." Her aversion to big money dates back to the days when she and her first love, Elliot Gould, shared a tiny apartment above an East Side fish restaurant.
"The only window looked out on a black brick wall," recalled Gould in a 1962 interview with Time. "We used to eat on the sewing machine. A big rat named Oscar lived in the kitchen." The couple met during the auditions for I Can Get It to You Wholesale and became instantly inseparable. The talented but yet-to-be-discovered pair was intensely private and just as broke, whittling away their leisure money on B-movies and pokerino in Broadway penny arcades.
In the same interview, Elliot applauds Barbra's timeless style: "Her taste is just wild, it's genius, really." Barbra reminisces on her days of raiding thrift stores for glamorous, if threadbare, satin negligees: "I never was a beatnik. I bought that stuff because it was cheap. Besides, I figured, anybody that's rich enough to donate to a thrift shop gotta dress clean, know what I mean? I mean—they're rich enough to take a bath, huh?"
When it came to culinary preferences, Barbra's tastes were just as charmingly unsophisticated. The pair subsisted on grapefruit, brownies, herring, corn soup, TV dinners and coffee ice cream bricks that Barb herself would concoct. The last two remain among her favorite treats to this day. While the phrase "coffee ice cream brick" might not have you watering at the mouth, allow us to reveal the dessert's main ingredient: marshmallows. Yes, Easter may be over, but the days of indulging in toffee-infused desserts aren't! Don't let first impressions deceive you—this cool summer treat's got a charismatic flavor that rivals its maker's.
So, without further ado, go whip up a batch, pop The Way We Were into the DVD player and settle in for a night of celebrating Barbra and all the other fiery, opinionated, ice-cream loving Katie girls out there.
Barbra's Instant Coffee Ice Cream
Ingredients
24 marshmallows
1 cup milk
1 teaspoon instant coffee
1 cup heavy cream, chilled
Directions
1. Turn your freezer to the coldest point.
2. Pour milk into a saucepan, heat, and gradually add the marshmallows.
3. Mix until the mixture is smooth; add the instant coffee.
4. Let it cool a bit.
5. Whip the cream until stiff; mix cream and marshmallow mix together and pour into an empty ice cube tray or similarly-sized pan. Freeze.
Barbara likes to this dessert with pretzels…why are we not surprised? Salty and sweet make for an idiosyncratic but unbeatable combination.